---
You may also follow us on Spotify
How to Build a Winning Sales Team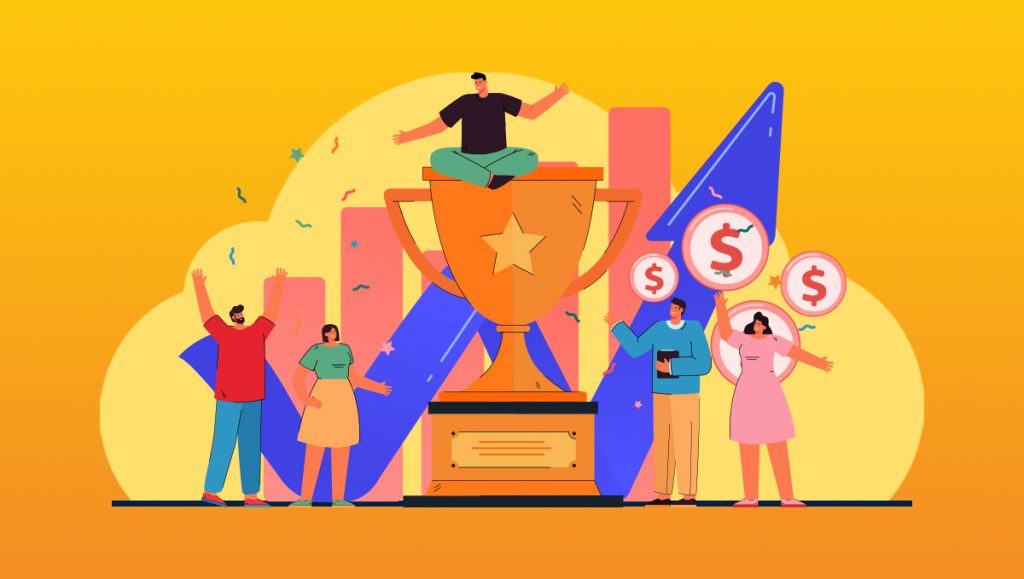 Sean: Patrick asks finally, how badly was the industry hit now compared to the start of the pandemic?
JC: Well, I'd like to piggyback on what Sean said. The companies that waited, I literally have close friends and fellow caterers who have closed down. It hurts to hear stories like that because you're in the same boat, you're going through the same challenges. A lot of the people in the wedding industry shifted their careers. They looked at their skills. They said they are good at writing, speaking, hosting so they're going to do call center jobs, they're going to do life insurance.
A lot of people shifted, but a lot of the big players who know how to pivot, who know their core business, they're the ones who not only were able to survive it, but I think they thrive, they got a bigger market share. Actually, that's shocking. My team during Q4 of the pandemic, although we reduced the targets, they hit 500%. Q1 this year, they hit 300%. So I'm so proud of them. They didn't let go, they were really fighting, and they're doing it for the people. I've still barely enough to pay our expenses, but because we really reduce the target, but the fact that they were fighting, that's heartwarming.
For the entire industry, some went up, a lot went down and shifted or even changed their business model, or completely went out of the wedding industry.
Sean: A sales team like that, bro. How did you build a sales team like that? Because it's hard. Honestly, one of the teams that are most difficult to build is the sales team. It's one of the, if not the most difficult. But how did you do it, to have a passionate sales team, caring about their targets? Because look, if they don't bring home the bacon, nobody eats anything. Right? Even the owners don't eat anything. So how do you build the sales team like that?
JC: We spent like a million pesos to train our sales people. The first thing that they did before they did any of the technical, high impact selling skills they need before they did all of those things. The number one thing they did is they aligned the hearts of our people. No matter how good your presentation is, no matter how good your product knowledge deck is, if these people are not aligned with what you want to do, it won't work.
And for me, the number one thing is, the salespeople, they're really the best team in the entire company. So nothing that we did was, don't make them reach their own target. We focused on their personal target for their dreams and their personal lives. So we have this dream board and I did it because at that time I was so stressed. I was so stressed out from work. I wanted to quit. I wanted to quit. I said, I don't want this anymore, it only brings so much headache.
And then I made this dream board because it's something that motivates me and pushes me to wake up and remember, this is the reason why I need to go to work. So there's a photo of my dream house, traveling with my parents. Because they've given me so much travel all over the world, I want to pay them back. I planned to bring them to Palawan, but the pandemic happened. But I'll continue that. So there are photos all over of my dream car, my investments.
We made it numerical. Like, okay, what's the first thing that you're going to focus on? And then after that, for example they said, I want to buy a car. How much is it per month? Do you know? He didn't know how much his dream was. Okay, inquire. Their homework by the next time we meet, on the second day of training, it already has a peso value. And then, they already know per month, how much sales they need to reach to have a commission and then pay for his expenses and put it there.
So our people are, it's so fun to ask them. If I say, how are you? They know that I am not just asking how they are doing but I'm also asking how their dreams are, if they were able to achieve it. So a quarter from now, from the first day of training, I do the training personally, myself. And then after, I'll ask them how they are. They're going to tell me, sir, during the pandemic, I was able to buy a new Vios. It really feels good.
You know, it feels good. It can boost morale. Everybody is so motivated. Everybody is so proud of each other's achievements and I really have to hand it to my team. Because my sales managers are so motivated to reach their dreams. They're so motivated to allow other people to reach their dreams. It's fun. I really have to hand it to my people.
Of course, they're driven for their family. They're driven for the people around them that they have their dreams for. But I think if I would choose one answer out of the many things that they do, it's that they're very driven. They have a very clear sense of why. Why do they need to sell? Now we're still expanding. I have sales training next week of four new sales people. We're expanding to 35 now and we're going to become a 40 sales team.
Sean: That's great. Erika asks, what are some of the struggles that your business went through during the pandemic? Maybe the top two toughest times or instances during the pandemic. And how did you overcome it?
JC: The number one that comes to mind is when the clients want to refund and cancel. It really brings headache and it drains you emotionally, because we're talking to so many clients. Our flow is like this, if the account executives can't handle it, then me or Sir Alex come into it. We're the ones handling the concerns. We want to clear to make sure the clients feel heard. We want to make sure that they feel like they're talking to somebody who can make a decision.
And that was really difficult because on one hand, we've done a lot of deliverables to our clients already. That may not seem that tangible to other clients because they are not able to see the food they've eaten on that day. But we have to explain that there are over 200 people who make their dream wedding possible. And 13 departments planned meticulously for this. We're not, you know, the so-so caterer that would just take a project and then it's all up to you on the day. No, we really take so much preparation in lead time. The number of meetings that my account executives have. The grooms and brides call you in the middle of night because that's when they are free, after working. 
So there's a lot of work that goes into it. My team meets every month. They update on the contracts. They check if it's right or wrong. To make it short, they analyze the manpower needed for your event. They already make an inventory and analyze are there enough equipment to make sure that their event can be catered. There's a lot of things that go into the preparation that sometimes clients don't understand and see. They'd be like, you haven't shown any food and so on. But at the end of the day, I just tried to look at their situation also.
Most of the, honestly, the high-end clients, they are not a pain to talk to. But because Juan Carlo is aspirational, our clients are mostly OFWs, their hard earned money, their income was really affected. That really hurts for me too because I feel sorry for them because I know what they're thinking. They saved up for two years in advance, three years, even four years in advance for Juan Carlo. And then because their income was affected, they don't want to continue the contract.
So we did refund some clients and then, but not what they asked. We gave, for example, instead of not getting any refunds, we gave them 50% or 60% refund. So they were very happy with that. And actually some were not. They wanted a complete refund. We went to DPI with some of our clients. And then what happened was even in DTI,  DTI told the client, you should pay Juan Carlo because you have a contract and they were the one who paid.
So it's really, the messy headache of so many brides and grooms who are already very emotional with their businesses and now their wedding. Right? Their businesses and work got affected. But I don't want to earn just by following what's in the contract and then leave them dry. I'll feel sorry for them and I understand their situation. We really refunded some clients and we were able to postpone a lot. Majority were postponed. Only a few refunded but that's one of the struggles.
And then of course the biggest struggle was thinking about the emotional stress. The emotional stress that these 200 people who have 200 families depend on you. That is what drove us to do everything to pivot. But that is also one of the biggest sources of sadness, looking back. I didn't know what would happen. It's a good thing that we are able to bounce back. And now, we're very optimistic.
But at first, when we still don't know, it really hurts. You don't know what you are going to do to your people.
Sean: We were calling each other at that time. What are we going to do? Yeah I remember that time. It was very hard. Right? And many meetings. I'm sure you did many meetings with your team as well.
JC: Communication was key. It was so difficult. You really need to over-communicate. Because if their work and their livelihood is on the line, you need to communicate. Okay, we're going to take less duty. They need to know that. You can't just implement it in an impulse, you need to over communicate it and make them emotionally prepared for what happened, especially during the one month lockdown.
Sean: Yeah.
JC: The first one.
Sean: And if you don't communicate it over and over again, sometimes there's a monster and people's heads. And it grows ten times, twenty times and they spread that poison to others. It's going to be nasty.
---
Juan Carlo on Social Media:
Facebook: https://www.facebook.com/juancarlocaterer/
Website: https://juancarlo.ph/catering-history/
To learn more about entrepreneurship, leadership & management, you can follow us on:
Facebook: https://www.facebook.com/leadershipstack/
TikTok: https://www.tiktok.com/@leadershipstack?lang=en
Youtube: https://www.youtube.com/leadershipstack
Listen on Spotify: https://leadershipstack.com/spotify
Join our community and ask questions here: https://from.sean.si/discord/
Sean Si on Social Media:
LinkedIn: https://www.linkedin.com/in/seansi
Facebook: https://www.facebook.com/seansi.speaks/
Websites:
SEO Hacker: https://seo-hacker.com
SEO Services: https://seohacker.services
Sean Si: https://sean.si/
Enroll now in Sean Si's Masterclass:
https://sean.si/masterclass/
Support Sean Si's work by becoming a patron:
https://www.patreon.com/seansi
Where Sean Si invests and make his money work for him:
https://leadme.ph/growinvest
Check out Sean's new project: Aquascape Philippines
https://aquascape.ph